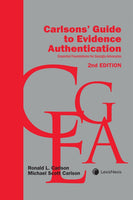 Carlsons' Guide to Evidence Authentication - Essential Foundations for Georgia Advocates - 2nd Edition
Carlsons' Guide to Evidence Authentication - Essential Foundations for Georgia Advocates - 2nd Edition
The new Carlsons' Guide to Evidence Authentication is designed to go to court. The smaller counterpart to Carlson on Evidence features
alphabetical organization, structure by key evidence terms, sample evidentiary foundations, and "Q&A's"- for a host of evidence. It focuses on succinct analysis of crucial evidence concepts in "new" Georgia and Eleventh Circuit authority.
Learn More at LexisNexis. Visit: www.lexisnexis.com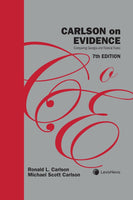 Carlson on Evidence 7th Edition is now available on LexisNexis
With over 60 citations by the Supreme Court of Georgia and the Court of Appeals of Georgia, we know you will find this updated rule-by-rule, comparative examination invaluable to your practice and study of understanding Georgia's old evidence code, new 2013 evidence code and the federal counterpart.
Learn More at LexisNexis. Visit LexisNexis.
About the Carlsons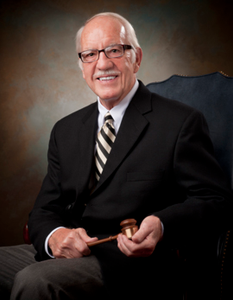 Ronald L. Carlson
(Fuller E. Callaway Professor of Law, Emeritus, University of Georgia School of Law): Ron Carlson was awarded the Lifetime Achievement Award by the Georgia Trial Lawyers Association, as well as the Federal Bar Association's highest honor, the Earl Kintner Award. The ABA recognized him with the ALI-ABA Harrison Tweed Award, their top award for CLE contributions at the national level. He has received every faculty honor presented by the law school student body at least once: the Student Bar Association Faculty Book Award for Excellence in Teaching, which is now the C. Ronald Ellington Award for Excellence in Teaching, the John C. O'Byrne Memorial Award for Significant Contributions Furthering Student-Faculty Relations and the Student Bar Association Professionalism Award. He was the first Georgia Law professor to receive the Josiah Meigs Award for Teaching Excellence from UGA. He also was awarded the 1987 Roscoe Pound Foundation's Richard S. Jacobson Award, honoring a single national law professor for the teaching of trial advocacy. Professor Carlson was the lead and sole attorney for indigent prisoners in two significant U.S. Supreme Court appeals, Long v. District Court (establishing indigent habeas applicant's right to transcript) and Johnson v. Bennett (prisoner freed after 34 years of confinement). He is the author of 15 books on evidence, trial practice and criminal procedure, including the book Carlson on Evidence, co-authored with son Mike Carlson. Carlson regularly comments on WSB radio on high-profile Georgia criminal cases.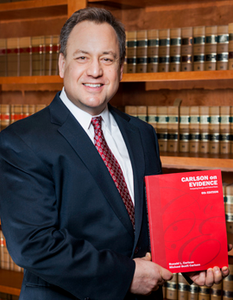 Michael Scott "Mike" Carlson
(Executive District Attorney, Major Crimes Division at the Office of the Fulton County District Attorney, Atlanta Judicial Circuit, Adjunct Professor of Law, Atlanta's John Marshall Law School; Judge, Georgia Court Martial Review Panel): Mike Carlson, who holds an "AV Preeminent" (highest possible) Martindale-Hubbell peer review rating, received his A.B degree from the University of Georgia and his J.D. degree from Washington and Lee University in 1992, where he earned, among other distinctions, the Virginia Trial Lawyers Association Award for his "excellence in demonstrating the talents and attributes of the trial advocate." After first engaging in private practice, where he focused on civil litigation and media law, Carlson had worked as an assistant district attorney since 1997, and ultimately as Deputy Chief Assistant District Attorney with the Cobb County District Attorney's Office. During his career as a prosecutor, Carlson successfully handled numerous high-profile cases and appeals, including death penalty trials. Currently he serves as Director of Legal Services and Ethics Officer for the Georgia Bureau of Investigation, Georgia's Largest and Statewide Law Enforcement Agency. An author and frequent speaker on issues of evidence, trial practice, and criminal procedure to Georgia's bench and bar, Carlson has served on the adjunct faculty of Atlanta's John Marshall Law School and Emory University School of Law, and is a mentor and lecturer at the Gary Christy Memorial Trial Skills Clinic at the University Of Georgia School Of Law. In 2015, Governor Nathan Deal appointed Carlson to the Georgia Court Martial Review Panel. Among the professional awards and recognition that Carlson has received include: Faculty Medallion from the Institute of Continuing Judicial Education of Georgia for consistently outstanding presenter ratings; Prosecuting Attorneys' Council of Georgia's J. Roger Thompson (now Thompson-Jones) award for training beginning level prosecutors; selection as a Master in the Joseph Henry Lumpkin Inn of American Court; named by James Magazine as one of "the most influential lawyers in Georgia"; and special recognition from the District Attorneys' Association of Georgia and the Georgia Gang Investigators Association.